About Healthy-Diet-Healthy-You.com and Mary Bradley – Your Healthy Diet Guide
Healthy-Diet-Healthy-you.com is a web site about healthy diets. Its aim is to give you the latest nutrition information and scientific research on the topic. My hope is that with that you can figure out what to eat to avoid illness, get well when sick, and feel as energized and upbeat as possible. A healthy diet is the foundation to physical and emotional wellbeing.
My name is Mary Bradley. I created Healthy-Diet-Healthy-You.com because of my long time interest in health, nutrition and good food and how the three interconnect.
In my teenage years, my obsession with food became an unhealthy one. I was diagnosed with anorexia – a condition I finally overcame when I learned that food could nurture – not oppress me.
My interest in nutrition and wellbeing was re-ignited unexpectedly in my thirties when I discovered that I had high mercury levels, most likely got from eating tuna caught while cruising the pristine waters of the Indian Ocean on a catamaran – not a place or the lifestyle you'd imagine for heavy metal poisoning. I spent months detoxifying naturally with the help of a nutritionist who used a healthy diet and supplements to do this. Through that experience, I realized the profound effects food and its nutrients have to make or break my family's and my health.
My interest in health, good food and the latest in nutritional science turned into a passion when my then husband and I decided to have a baby – The fact I was over forty, a challenge in any event, along with my ex's reproductive issues, ushered us into the emotionally high stakes world of fertility treatment. I learned how the right nutrients had a huge effect on my ability to get pregnant, stay pregnant and give birth to a healthy and happy munchkin. That munchkin is Alexandra and she is now five.
I've seen the effects optimal nutrition and a healthy diet, including good food and selective use of supplements, can have on the many health conditions that I and my family have navigated over the years.
What you eat matters! The science supports this. My experience confirms it.
As a freelance writer, I've written extensively about nutrition, health and travel for, among others, O Magazine, Longevity, Femina and Rotarian as well as blogged for The Huffington Post about healthy diet and other lifestyle issues.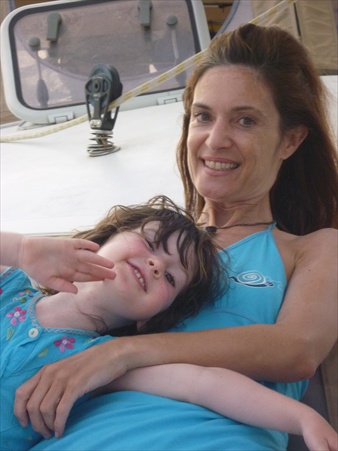 Before this web site ...
… I spent the last decade travelling the world by sailboat; including crossing the Atlantic with my then seven month old daughter as well as sailing as a single mother off the coast of Panama with a three year old as first mate. Prior to life aboard, I was an entertainment lawyer working in feature film and television.
Now …
… I live in Boston dreaming up tasty ways to make sure my five year old and I eat our veggies, so we can remain healthy, wealthy and wise in the hectic world of kindergarten, single motherhood, good books, bicycle trips to the park, and enjoying family and friends.
My hope …
… is for Healthy-Diet-Health-You.com to give the information you need to eat healthily for whatever health challenges come your way.
To your and your family's good health,
Mary Bradley